E-mail:
larryayre
@telus.net
Telephone:
(250) 338-6478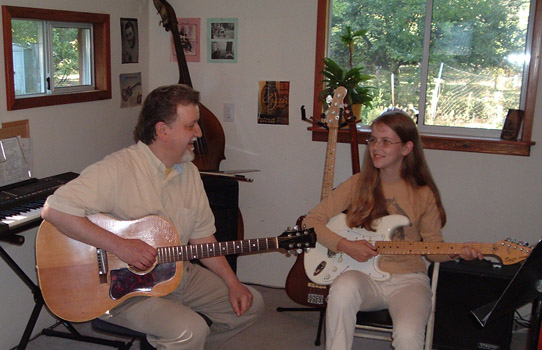 In this photo I am giving a guitar lesson to a student in my fully equipped private studio. I offer instruction on the acoustic guitar, electric guitar, acoustic bass, electric bass guitar and on the harmonica. I teach students of all ages and levels (beginners welcome!) using both regular notation and tablature. Many of my lesson are scored on computer; I also use this technology to record special music projects and play-along CDs. You can hear some examples from &nbspLarry's Harmonica Course&nbsp on the Listen page.
In my teaching I try to emphasize good technique and sound physical principles when learning an instrument. Good habits, not just in the hands but in the approach of the whole person to music, enables the student to explore different styles as they progress. With proper technique it is easier to avoid the 'wrong turns' that can result in having to unlearn 'bad habits' and redo the work. Lessons in many styles are available; Blues, Jazz, Rock and Country as well as Classical.
I have taught for over 20 years. I studied jazz theory and performance at York University in Toronto in the 1970's; more recently I have studied classical guitar through the Victoria Conservatory of Music.