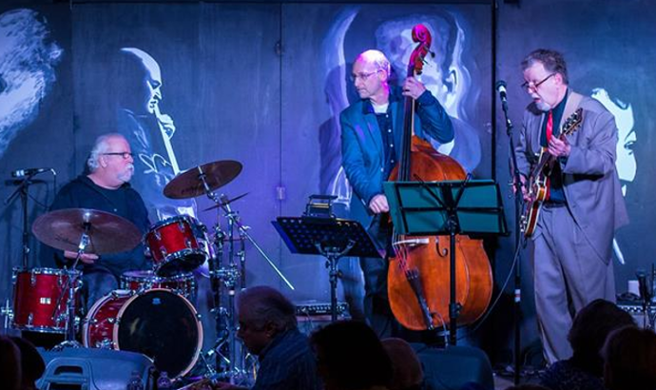 The Larry Ayre Jazz Trio
The Larry Ayre Jazz Trio features Larry Ayre on guitar and vocals, and Greg Hill on drums. They are frequently joined by John Hyde on acoustic bass. These experienced players are equally at home playing jazz standards, up-tempo latin tunes, Bossa Novas, and of course lots of swinging Blues.
A little history/biography: Larry was born in Montreal, and he became interested in playing music in the 1960's when his brother started singing in a teen band that had some success playing high school dances. He recalls "The music of the time was dominated by the hits of the Beatles, but local bands always started out playing blues, because that was what you could play!" Larry was a big fan and he started collecting and repairing his brother's old harmonicas, his first instruments. With his brother's band set up and practicing in the basement of the family home, he also experimented with guitar, bass and piano.
Then one day his brother-in-law introduced him to Bebop and Larry became very interested in exploring the origins of the many different styles of jazz and blues. "They are all closely interwoven, and learning to play the blues form has always been an indispensable jumping off point to learn how to improvise music. In many instances jazz and blues share a common melodic vocabulary, and they always have shared the same rhythms."
In the late 1970s Larry went on to learn jazz guitar while attending the York University jazz program in Toronto. He lived in Vancouver for a decade, playing many gigs in different styles and honing his musical skills on guitar, bass and harmonica. Larry moved to the Comox Valley in 1990. He was leader of The Larry Ho Blues Show and then went on to lead Larry Ho's Jive Five, a group that played many of the wonderful jazz standards of the swing and big band era.
Greg Hill hosted a popular jazz jam in Campbell River at the Willows pub for many years; that was where Greg and Larry met, playing jazz in one of the several incarnations of The Blue Monks. They have played many gigs together over the decades, getting tighter as they have explored both their jazz and blues favorites. Recently the group has appeared at the Georgia Straight Jazz Society's Thursday evening jazz concert series at the Avalanche pub in Courtenay.
Larry and Greg first performed with John Hyde at the Painters at Painter's event that ran for many years at Painter's Lodge. John is an accomplished and incredibly sensitive bassist who moved to the North Island area after retiring from a long and sucessful career playing and teaching in Alberta.

Also check out Larry Ayre Blues on facebook
Special Occasions
There is nothing like live music to create a warm atmosphere at any special occasion or function. Wedding receptions, anniversaries, birthday parties, retirement parties, summer BBQs and fundraising events are all enhanced by it.

Since relocating to Vancouver Island in 1990, I have played at many special events and functions on the North Island, both in the Comox Valley and in Campbell River. Whatever your taste, whether you would like solo guitar, the Blues LAB duo, The Larry Ayre Jazz Trio, or a larger group that can play latin music, standards, as well as rock'n'roll and blues, please contact me and make an inquiry!